VERSATILE – Innovative robotic applications for highly reconfigurable production lines
VERSATILE project is a three year project funded by the European Commission in the Horizon 2020 programme under Grant agreement No: 731330.
The project consortium involves nine partners from industrial end users, technology providers and research institutions.
The overall objective of the VERSATILE is to provide a bridge for transferring, demonstrating and validating the latest R&D results in robotics towards different industrial environments proving their applicability and effectiveness. More specifically, VERSATILE will apply dual arm robots in executing complex tasks that are traditionally assigned to humans due to their manipulation requirements. By providing the tools to quickly setup, program and operate innovative robotic systems the end user will have robotic cells flexible enough to automatically adapt to the high number of products variants.
In this context the project will focus on advancing the TRL level of the latest developments in the areas of:
Perception for Operation in semi-structured environment.
Easy Programming framework to improve the re-configurability/ programmability of the robotic systems
Mobile dual-arm robotics manipulation capabilities
Open frameworks for the 'Plug and Produce' based coordination of these resources
This will be investigated in three industry driven use cases including both static and mobile dual arm robots.
The project will focus on three main applications:
Automotive: assembly of vehicle dashboards at PSA
Aerospace: assembly of aircraft wing parts at AIRBUS
Consumer goods: handling and packaging of shaver handles at BIC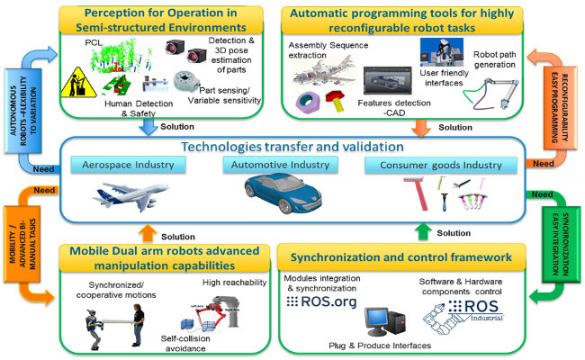 More information: http://versatile-project.eu/
PARTNERS: