We design, develop and implement production lines across a range of industrial settings, and work closely with our customers to fully adapt to their needs.
We design and implement production lines in all kinds of industrial settings
We work closely with our customers to fully adapt to their needs. We jointly validate solutions provided through "blank" assembly processes or pre-assemblies. We adapt to any mechanical design option to the last millimetre using digital robotic simulation to certify that the final option is the most suitable for each automation process.
DGH's Engineering Department has the necessary capacity, in coordination with the Maintenance and Innovation Departments, to tackle all kinds of intelligent industrial solutions, both on a large and medium scale. We have highly qualified staff and the necessary technical resources to carry out the entire process, from the first idea to the final factory installation, optimising production processes and comprehensive maintenance support.
We carry out collaborative robotics projects so that robots and workers can safely work together in safe environments, in accordance with the strict industrial safety protocols established by European Union regulations.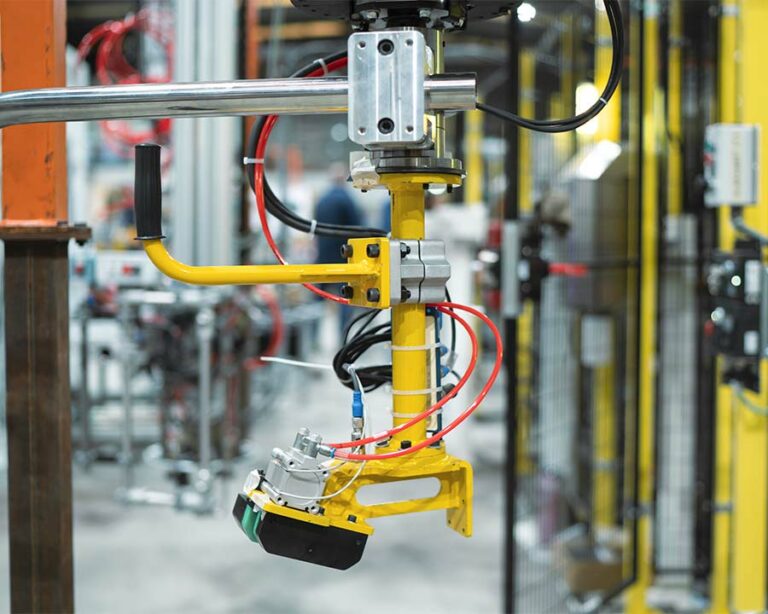 We are backed by having installed more than 2,200 robots
This figure reflects fruitful cooperation agreements with the leading robot brands in the industrial automation sector: KUKA, ABB, YASKAWA, FANUC, UNIVERSAL ROBOTS. Naturally, we know almost every kind of robot currently available on the market, so that we can always choose the best option for any kind of circumstance.
DGH can handle a multitude of functionalities for each robot according to the specific needs of each project. These include functionalities such as resistance welding, gripping, screwdriving, palletising or robotics guided by artificial vision.
At the same time, we have the know-how to manage robots from leading brands such as Schneider, Omron, Rockwell Automation and Siemens when it comes to automatons.
In addition, we work with leading mechanical design software (DS Catia, DS SolidWorks); electrical design (Eplan, SeeElectrical), and simulation (MicroStation, RobCad, TecnoMatix).
We cover all project phases
Concept
Where appropriate, we support our clients in their process study and definition of the "necessary solution" concept for their requirements.
We check concept feasibility in design, implementation, cycle time, and the risks that our experience shows us during development.
We determine which assemblies need to be designed and manufactured or modified, the implementation required, the type of programming needed, and additional equipment.
We always assess solutions that meet the safety requirements of the applicable European framework, together with the specific requirements of the client's own regulations. Our commitment to confidentiality is always upheld, in compliance with our certified ISO27001 standard.
Concept validation with the client
We analyse the proposed solution with the customer's technical team, incorporating any additional mutually agreed modifications.
Study phase (technical office)
Following the requirements agreed in the concept, our team of robotic simulators, implanters, mechanical and electrical-pneumatic designers develop assembly designs.
We show the customer our design result and, if necessary, we validate the final design with the customer.
Manufacturing / Purchasing
We initiate the manufacturing of the various assemblies in-house in our workshops or with our approved workshops.
We ask our approved suppliers to supply the necessary additional commercial or capital goods.
Blank assembly and commissioning
All equipment is installed with complete assembly, if the installation allows it.
Our PLC and robotics programmers load the programs developed off-line and make the necessary adjustments.
We validate together with our customer that the entire installation complies with the expected requirements.
Assembly and commissioning at the customer's site
We move all the equipment to its final location at the customer's facility.
We reassemble, adjust and put back into operation, checking the capacity of the installation once again.
Customer team support and training
Our technical team provides support to the customer during the scheduled shifts.
We train both production and maintenance staff to make sure they are familiar with every detail of the operation and upkeep of the installation.
Support from our maintenance teams
When necessary and if our client requires it, we can manage the integral maintenance of the executed installations.
READY TO LISTEN TO YOU
Whether you are starting a new project or looking to increase your performance, you will find the right answer at DGH. Let's talk?