Multi-robot control architecture for flexible and scalable logistic applications (itc-20151214)
European society is shifting its consumer habits towards personalised products, which is pushing industry to reduce time to market and improve production flexibility.
This production flexibility requires a supply chain, or logistics chain, that is much more complex and oriented towards handling smaller volumes of product, which results in an increase of the number of items handled and a decrease in the volume of items in each one of them. This means that new technological solutions must be developed to increase competitiveness and the quality of the services provided.
ROBLE therefore sets out to develop highly flexible and scalable robotic logistics systems that combine commercial robotic platform integration with the use of a multi-robot and multi-user control architecture, natural mark-based navigation, route and task planning systems, 3D vision and robot to robot cooperation.
To do so, ROBLE suggests implementing an integral solution to create robotised logistics applications based on the development of a multi-robot and multi-user architecture integrated with the management system, focused on two high-impact applications:
Flexible warehousing representing a European turnover of €126bn, and with a market size of 109,000 companies.
Production plant intralogistics representing a total European turnover of €34.5bn, focused on automotive, and with a market size in Europe of 799 OEM assembly lines and 3,635 plants of TIER1, TIER2 and component suppliers.
A consortium of companies covering the entire value chain has been put together to implement the project, bringing together the necessary expertise to achieve the intended objectives: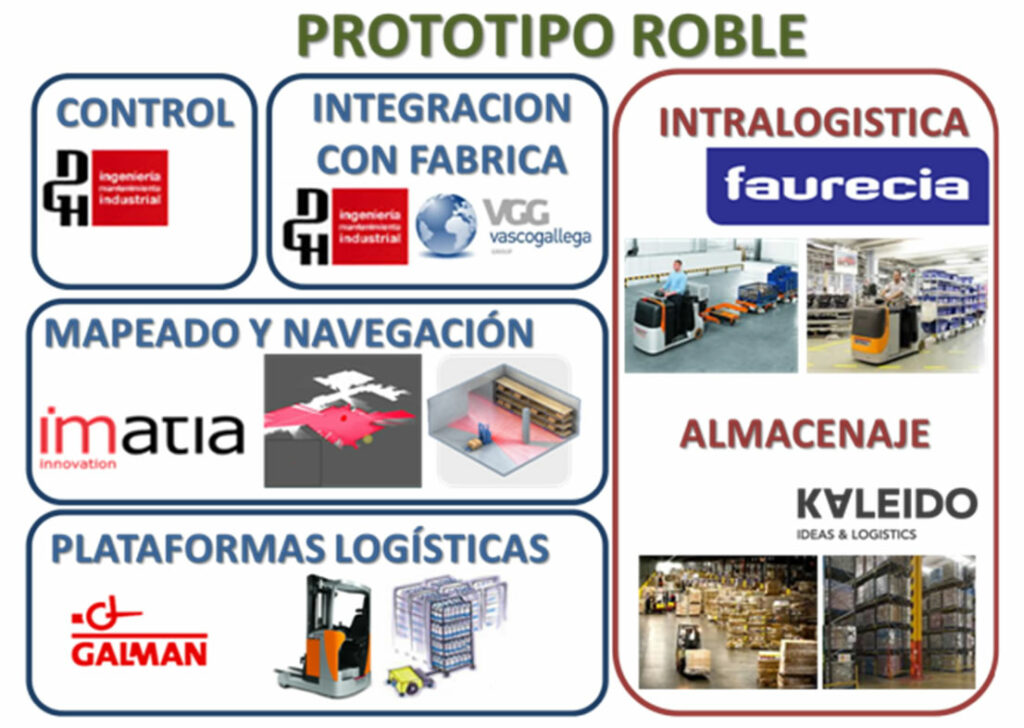 GALMAN. A small company specialising in distribution, maintenance and adaptation of machinery for warehouse management and logistics tasks. ROBLE will add new applications to its product line and logistics platforms.
IMATIA. A technology-based company specialising in creating technological solutions for end customers. ROBLE will allow IMATIA to continue developing navigation systems thanks to the launch of a navigation system adapted to articulated vehicles with multiple trailers.
VGSC. Integral logistics company, head of the KALEIDO IDEAS & LOGISTICS group. ROBLE will allow VGSC to have a multi-robot logistics system to develop flexible robotic logistics architectures, suitable for installation in warehousing systems.
DGH. A benchmark company specialising in process engineering, robotics and automation. With ROBLE, DGH will pioneer the development of multi-robot control architectures with high flexibility and scalability specifications.
KSCM. Third Party Logistics Provider, part of the KALEIDO IDEAS & LOGISTICS group.  It specialises in providing logistics services for warehousing and stock management. It will benefit from the ROBLE prototype developed for the application of robotised warehousing.
FAURECIA. TIER1, a leading vehicle interiors and emission control technology manufacturer. It will benefit from the advantages of the OAK prototype designed for intralogistics and flexible supply application oriented to the handling of short manufacturing batches.
This project was supported by the CDTI, the Ministry of Economy and Competitiveness and the European Regional Development Fund ERDF, within the Operational Programme Technology Fund 2014-2020.
Galicia, July 2015 – December 2017
Partners:

Participants:

Funding: