The global trend towards manufacturing products that are increasingly customised, complex and with shorter life cycles is forcing the industry to change its business model. This new manufacturing paradigm raises new challenges, among which is the implementation of new processes that are integrated as part of a new concept of advanced factory, which allows to address an efficient, agile and flexible manufacturing model, adapted to multi-reference manufacturing processes of short batches. This approach provides a competitive improvement to the sector by having a total solution capable of responding to ever-changing production demands.
PROFETA project was created based on this global need, focused on developing a new concept of flexible manufacturing through dynamic plant reconfiguration. PROFETA has based this new concept of flexible manufacturing on the creation and integration of tools for agile production management (MES) together with the implementation of new highly reconfigurable robotised solutions, based on innovative human-centred technologies, allowing a more natural and safe interaction and collaboration between humans and machines.
The project results have been validated for kitting and manufacturing operations by stacking composites for the aeronautical sector at the SOFITEC AERO S.L. facilities in Seville.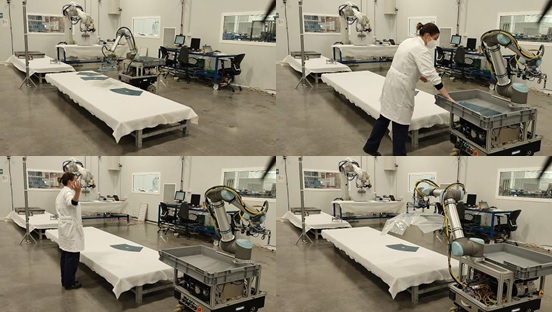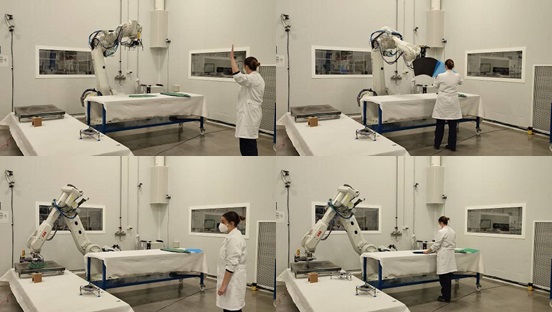 Main results
PROFETA's main results, in addition to the demonstration of the processes described above, include the following technological developments:
Profilometer scanning using free trajectories.
Review of imperfections in the stacking of prepregs in the mould.
Intelligent floor that identifies and locates operators in the work area.
People tracking for the security system monitoring the work area through machine vision and wearable sensors.
Multi-level security system.
3D gesture recognition that enables intuitive interaction between manufacturing support systems and workers.
Manual robot guidance that allows the operator to interact with and program the robot in a simple way.
Management software for reconfigurable production.
Profeta consortium:
DGH ROBÓTICA, AUTOMATIZACIÓN Y MANTENIMIENTO INDUSTRIAL S.A., is the leading company in the consortium specialising in process engineering, integrated plant maintenance and the first Spanish company to implement a system based on collaborative robotics in the automotive sector in Spain. As part of the PROFETA project, it has been in charge of the robotised systems and the final solution integration.
ONTECH SECURITY S.L., empresa tecnológica especializada en el desarrollo de sistemas de sensorización avanzada, destacando su tecnología basada en campos magnéticos controlados (CMC) para detección de personas, que ha liderado el desarrollo de los sensores necesarios para la seguridad del espacio de trabajo compartido.
NoSoloSoftware Network S.L., is a company specialised in software product development for the industrial sector, which has been in charge of leading the vertical integration activities of the PROFETA developments in the MES system.
SOFITEC AERO S.L., is a company dedicated to developing integrated solutions for the manufacture of aeronautical components for the international aerospace industry, and as an end user of PROFETA technology, has tested the developments in a relevant demonstration environment.
The consortium was supported by AIMEN Centro Tecnológico, an organisation with extensive experience in robotics, artificial vision and new control systems implementation.
Partners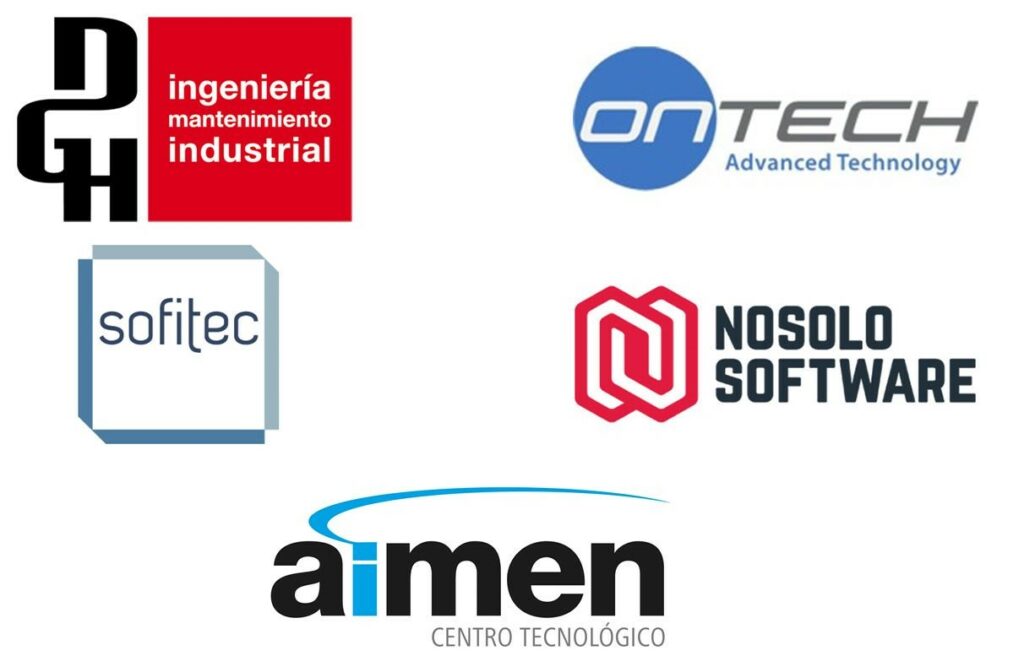 Budget and funding:
The PROFETA, project has been implemented in Andalusia and Valladolid, with a total budget of €1.2 million and has ended this year (2021). As part of the FEDER Innterconecta 2018 initiative, it has been subsidised by the CDTI and co-financed by the Ministry of Science and Innovation and the European Regional Development Fund (ERDF), as part of Spain's Multiregional Operational Programme 2014-2020, aimed at boosting research, technological development and innovation.