ODIN shall provide the technology resulting from the latest innovative research in the following fields:
Robot collaboration and human-robot collaborative workspaces.
Autonomous robotics and task planning based on Artificial Intelligence (AI).
Mobile robots and reconfigurable tools.
Digital replicas and virtual commissioning.
Service-oriented robotics integration and communication architectures.
"demonstrate that new robot-based production systems are not only technically feasible, but also efficient and sustainable for immediate introduction in industrie".
To increase EU manufacturing companies' confidence in using advanced robotics, ODIN's vision is:
The ODIN project has received funding from the European Union's Horizon 2020 Research and Innovation Programme under Grant Agreement No. 101017141.
The project consortium includes fifteen partners including industrial end-users, technology providers and research institutions.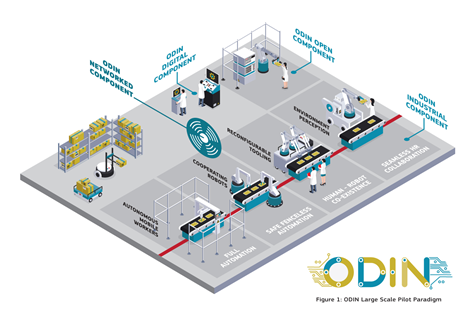 Objectives:
ODIN has established the following objectives to fulfil the vision described in the previous section:
Enable the introduction of mobile, autonomous, collaborative and environmentally friendly robotics in industrial environments.
Create digital validation tools for these robotic systems, enabling scalability with minimum complexity and integration risks.
Commercialise an advanced robotic integration platform able to connect the robotic design and development stage with normal production conditions.
Large-scale demonstration deployments in different production sectors to illustrate the degree of industrial development of the solutions provided by ODIN.
Create an innovative ecosystem to support the sustainability of pilot lines that engage stakeholders in robotic applications and inspire further deployment.
Use cases:
The project targets three different industrial sectors (Household Appliances, Aeronautics and Automotive), each of which exhibits a diversified set of requirements:
Household appliances: ability to reprogramme/reconfigure a robot for a new product diversity by a) integrating new processes b) teaching new human interaction schemes and c) replicating the solution for similar cases with the minimum possible cost/effort.
Aeronautics: ability to easily reprogramme/reconfigure a robot for new tasks that may combine autonomous mobility, handling or a combination of both.
Automotive: Robot mobility – being able to move between stations and perform different types of processes. Assist humans in handling heavy loads.
Further information: http://www.odin-h2020.eu
Partners